Where To Get Cheapest HIPEC Treatment For Cancer: Who Are The Top Oncologists in India?
Overview 
Today, Oncologists have a wide spectrum of options for treating Cancer. One such method is the Hyperthermic Intraperitoneal Chemotherapy (HIPEC), also known as Intraperitoneal Hyperthermic Chremoperfusion (IPHC). Diseases damaging the stomach organs can spread to stomach surfaces and the peritoneum. This type of spread is called Peritoneal Carcinomatosis and is a very serious infection.
Despite numerous recent advances in Chemotherapy, the chances of Chemotherapy being the ultimate cure are still low and the side effects are very difficult for the patients to bear. But, when these Cancers are limited to the peritoneal cavity, HIPEC becomes an ideal option.
The HIPEC process is an attempt to destroy any remnant Cancer cells. Before HIPEC, the surgeons execute Cytoreductive surgery to eliminate any noticeable tumors present in the abdomen. This process lasts about 8-14 hours and it depends on the extent of the disease. After all the tumors are removed, then the heated, sterilized Chemotherapy solution, having a temperature of about 41-43 degrees Celsius, is delivered into the abdomen. This solution penetrates and destroys the remnant Cancer cells. Once it is done, the solution is drained out from the abdomen and the incision is closed.
In What Conditions HIPEC Treatment is Needed?
Below mentioned are the types of Cancers, where HIPEC can be implemented:
Colon Cancer
Endometrial Cancer/Cancer of the Uterus
Pseudomyxoma Peritonii
Mesotheliomas
Desmoplastic Small Round Cell Tumours (DSRCTs)
Colorectal Cancers with Peritoneal Spread
Mucinous Adrinocarcinoma (MAC) of the Appendix
Advanced Ovarian Cancers
Recurrent Ovarian Cancer
Stomach Cancer
Best Cancer Hospital in India
1. Fortis Hospital Delhi : At Fortis, there are extremely progressive yet affordable Cancer treatment options available. Patients from all over the world approach here to get successfully cured of Cancer. The Cancer specialists present at this hospital are massively trained and knowledgeable in this field.
2. Global Hospital Hyderabad : This hospital is extremely reputed for its cost effective and superlative Cancer cure and the one of the best clinical teams working wholeheartedly for the Cancer affected. There is presence of highly advanced Cancer treatment related equipment and post treatment supreme cure.
3. Kokilaben Dhirubhai  Ambani  Hospital  Mumbai: This hospital not only spreads awareness about this disease but also has the most advanced Cancer cure – diagnosis and treatment reconstructive surgery, pain management, rehabilitation and much more.
4.  Lilavati  Hospital Mumbai: Having done pioneering amount of work in this field, Lilavati Hospital is one of the most favoured hospitals in India. Innumerable patients across the globe visit here with a major ray of hope about getting relieved of Cancer.
Top Oncologists in India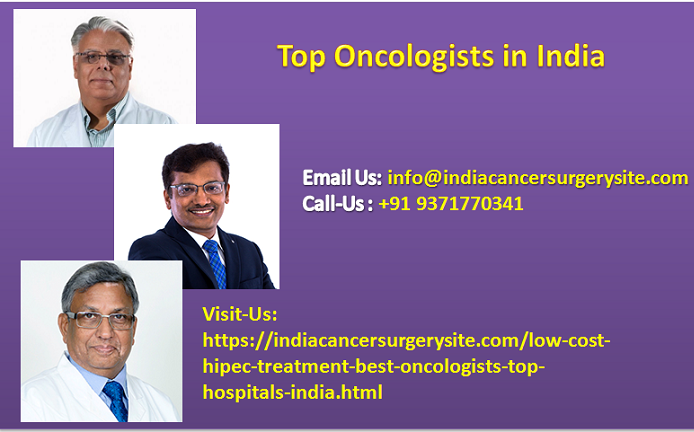 1. Dr. Vinod Raina : With more than 36 years of experience, he is one of the Best Medical Oncologist for HIPEC treatment in India. He is currently associated as the Executive Director with Fortis Memorial Research Institute at Gurgaon. He has successfully performed more than 600 transplants for various types of Cancer; this includes 250 Allotransplants. He has to his credit of doing the first high dose Chemotherapy and Peripheral Blood Stem Cell Transplant in India and has done extensive amount of research in this field.
2. Dr. R. Ranga Rao : He is at present associated as the Director of Medical Oncology at the Max Super Speciality Hospital, Shalimar Bagh; Max Hospital, Gurgaon and Max Multi Speciality Centre, Pitampura. He is highly experience in this field and his areas of specialization include Lung Cancer, Head and Neck Cancer and Uro-Gynae Oncology.
3. Dr. Raja Sundaram : Dr. Sundaram is of the most renowned Surgical Oncologists in South India and is the founder of Sundaram Cancer Centre, which offers affordable Cancer cure to many patients. A firm believer in 'Early Detection Saves Life', he has done pioneering amount of work in this field and has to his credit of performing 15,000 Cancer surgeries successfully on patients located not only in India but also across the globe.
4. Dr. Tarini Prasad Sahoo : A highly qualified Medical Oncologists trained from many reputed institutes, his areas of training and expertise include peripheral stem cell transplantation. My training also includes treatment methods like Bone Marrow Aspiration and Biopsy, Central Line Placement and Lumbar Puncture. At present, he is working as a Consultant, Medical Oncology at the Jawaharlal Nehru Cancer Hospital and Research Centre at Bhopal.
5. Dr. Sameer Khatri : Dr. Khatri is a highly qualified and knowledgeable Senior Consultant, Medical Oncology with the SMH-Curie Cancer Centre. Having more than 19 years of experience, he has done excellent and much commendable amount of work in this field.
To get the Best Cancer Treatment Consult with India Cancer Surgery Site
We, at India Cancer Surgery Site, are at the forefront in catering to the Cancer affected patients from around the world. We do our best to make your Cancer treatment most comfortable and successful. With us, you can access the best Cancer hospitals in India along with the top Oncologists, most advanced yet very reasonably priced Cancer cure. Also, there are neither any language obstacles nor any lengthy waiting periods.
To Consult With  Best Medical Oncologist For HIPEC  Treatment  In India Then You Can Send Your Query At : info@indiacancersurgerysite.com   Or  Call-us : +91 9371770341
To Know More About the HIPEC Treatment  For Cancer Read Also : Get The Affordable HIPEC Treatment Cost in India