Home >>
Mr. Lawrence's Neck Cancer Surgery Success Story in India
Mr. Lawrence's Neck Cancer Surgery Success Story in India
Mr. Lawrence Oluwadare, Nigeria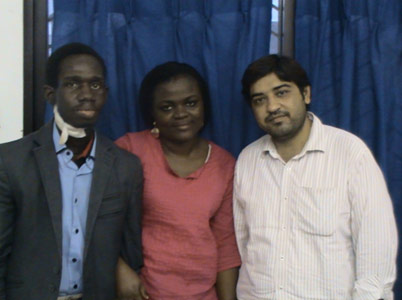 With a normal earache, it had started. Mr.Lawrence Oluwadare, the civilian of Nigeria, did not notice at first. However, gradually some other signs started to become noticeable. He lost some weight and his voice changed a little. With a sore throat and trouble in swallowing even the saliva, he shared his problem with his wife Mrs.Faith Wisdom Oluwadare. They decided to show up to a doctor in their neighborhood. The riskiest matter was the blood in his cough. The consulting doctor there diagnosed Mr Oluwadare with neck cancer. There was complete silence and both husband and wife were shattered to hear and accept the truth. However, truth cannot be hidden and has to be faced. His wife immediately got on her toes to search for a good cancer surgeon and in the process, she consulted many doctors and cancer specialists in Nigeria. Eventually, not to wait more as it could be more dangerous if not treated on time. However, she failed to gain a feeling of contentment in Nigeria with all respect.
Mr. Lawrence Oluwadare's colleague acknowledged about India Cancer Surgery Group in India. Mrs. Oluwadare without any waste of time contacted them for their services. The first conversation was satisfactory and thereafter all the communications were falling so smoothly and to the package that the husband and wife could manage to shed out. This game them a sense of comfort and relief. Hence, they made up their mind to visit India for the surgery. India Cancer Surgery Group confirmed their arrival date and made all the arrangements for their travel and stay in India. On arrival, the expert and experienced team was all ready with the pickup and drop facility, accommodation booking, appointment, and other essential amenities. The visit to the best cancer surgeon in India was considerable and helpful. His persistent cough defined a lot about his misery. Moreover, the other symptoms shared with the doctor made him decide to scrutinize Mrs. Oluwadare deeply. For a deeper examination, physical examination was done through few combined tests that could determine the further treatment. The tests were blood and urine test, Endoscopy, Biopsy, Molecular testing of the tumor, X-ray/barium Swallow, Panoramic Radiography, ultrasound, Computed Tomography (CT or CAT) Scan, Magnetic Resonance Imaging (MRI), Bone Scan, and Positron Emission Tomography (PET) or PET-CT Scan.
During the physical examination and other pre-surgery process, the consulting cancer surgeon in India advised him to continue with his forgoing medications until the reports are clear and well inspected. The doctor inspected the reports and immediately altered his medicines for preoperational treatment. The doctor decided to operate as soon as possible and gave him the date in that coming week. It was a hard time for Mr. and Mrs. Oluwadare as they never imagined that a little earache and cough would result in a dangerous disease like cancer. Tough times are difficult to pass but they consoled each other. Certainly, their wait ended when the day arrived when the operation was scheduled. Mr. Oluwadare was beset by numerous feelings like anxiety, fear and felt goose bumps all over. The doctor ensured them in a positive way. Mrs. Oluwadare sat outside the operation theatre with all the mental pressure of anxiety and depression, yet showed signs of positivity. The team of the group further consoled her during the surgery and assured her of a successful operation. The doctor came outside and blissfully announced Mrs. Oluwadre's name and informed him that the surgery ended well. The surgeon also mentioned that for the post-operational treatment, he needed to take precautions in his diet. They made him stay in the hospital for two days and on the third day, he got discharged. Mr. and Mrs. Oluwadare were overwhelmed with the generosity of the staff and the doctors who were on duty at that time. Their hospitality was highly perceptible!
May God bless them all!
Thank you,
Mr. Lawrence Oluwadare
Nigeria
---