About
Dr. P. Jagannath is a trusted Surgical Oncologist. He has been a member of team performing the First Bone marrow transplantation in India. At present, Dr.Jagannath is presently Chairman, Department of Surgical Oncology, Lilavati Hospital and Research Centre, and Professor of Gastrointestinal Oncology, Asian Institute of Oncology, S.L. Raheja Hospital, Mumbai from 2002.
With 30+ Years Of rich experience Dr. P. Jagannath is a highly esteemed member of the medical fraternity. While his primary expertise is in Gastrointestinal Oncology, he is also very well known for his health and community initiatives. He has the largest series of GEP NET in India and was the initiator of the neuroendocrine tumor registry for the Asia Pacific region.
He has founded the website 'www.indiacancer.org' for cancer awareness and established the 'Crusade against Cancer Foundation extending financial assistance to cancer afflicted patients particularly children for the last 10 years with the support of Sachin Tendulkar.
He has given excellent contribution in the field of Liver tumors - resection and non-resectional therapies - including RF ablation, Gall Bladder cancer - epidemiology, multimodal treatment and surgery; Pancreatic resections; Sphincter conservation for rectal cancer. In India, he has handled maximum number of Whipple's operations and complex HPB oncologic surgeries with low mortality. Dr. Jagannath was contributory in the development of HPB surgery in India.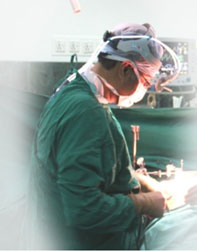 For the last 30 years, as a cancer surgeon, I have been hundreds of patients from all walk of life. The reaction to the word 'Cancer' is universally the same - FEAR. The best way to help people is to eradicate the myths and share some scientific information.
I have seen ordinary men and women with extraordinary courage fighting the big C and win hands down. They give confidence to defeat fear and conquer the 'Big C' all the stories are real.
Dr. P. Jagannath specializes:
Surgical Oncology
Gastrointestinal Oncology
Nuclear Medicine Physician
Gall Bladder Cancer
Liver tumors resections
Pancreatic resections