REQUEST APPOINTMENT
Dr. Mathangi, Best Radiation Oncologist, India
Book Immediate Appointment at Mobile
+91-9371770341


Number For Fast Track Query Reply Email ID- dr.mathangi@indiacancersurgerysite.com
Brief Profile
Dr. Mathangi J is a radiation oncologist at Global Hospitals, Bangalore. She has gained wide experience having worked in both national and international institutions as a Radiation Oncologist. Radiotherapist at Global Hospitals, Bengaluru has her key area of interest lies in Stereotactic Radiotherapy Techniques, Brachytherapy, and Preventive Oncology. Having worked at the reputed Manipal Hospital Bangalore as a Senior Registrar, Best radiation oncologist in Bangalore has gain special skills in Brachytherapy techniques including Interstitial Brachytherapy of cervix, prostate and head and neck cancers under the guidance of a world renowned specialist in Brachytherapy, Dr. Sanjiv Sharma. Top radiotherapist in Bangalore is also well experienced in treatment using adaptive Radiotherapy in prostate cancers as well as performing marker matched IGRTs. The best radiotherapist in Bengaluru manages both the inpatients and outpatients in Radiation Oncology as well as managing patients receiving concurrent Chemotherapy. Send us your query to book appointment with radiation oncologist at Global Hospitals via Dr Mathangi Email Address.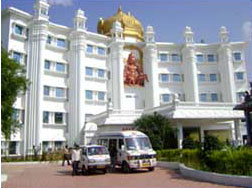 Top radiation oncologist in Bangalore has partaken in treating patients of all needs in the field of Radiation Oncology with the latest and advanced technologies, machinery, and systems. Throughout the course of her career, Dr. Mathangi has worked closely with leading Radiation Oncologists, Oncologists, Chemo therapists, and other allied speciality departments for a number of years and has gained a vast experience in providing cancer care and treatments. Her commitment to bring advanced and expert care has seen her attending various medical conferences nationally and internationally and presenting papers. She has garnered the accolades and recognition throughout her career which is a testament to her expertise. Consult the radiotherapist via Dr. Mathangi Contact Number given on the website.
Education
MBBS, from Stanley Medical College & Hospital Chennai, India, 1998
DMRT (Diploma in Radio Therapy) from Madras Medical College, Chennai, India, 2006
DNB (Rad Onc) from Apollo Cancer Specialty Hospital, Chennai, 2009
Specializations
Radiation oncologist
Medical oncologist
Association of Dr. Mathangi with Global Hospital, Bangalore
The department of radiation oncology at Global Hospitals, Bangalore offers a full range of therapies for the patients fighting with Cancer. Our physicians, nurse-practitioners and technicians are trained in special techniques and use advanced tools and equipments for the treatment of the patients. Our team of doctors specializes in all aspects of this specialty and uses the advanced techniques to perform the therapy on people of all ages. We aim to provide the best service and comfort of our patients and help them recover by support them through their medical journey. At Global Hospitals, we take care of this and provide you with the best treatment for you to live a healthy and a happy life.
Doctor Experience
Visiting consultant and teaching faculty at Sri Venkateswara Institute of Medical Sciences, Tirupati, 2015 - Present
Consultant at BGS Global Hospital, 2011 - 2015
Visiting consultant and teaching faculty at Sri Bhagawan Buddha Medical College, 2014 - 2015
Senior Registrar at Manipal Superspecialty Hospital, 2010 - 2011
Senior Resident cum DNB coordinator at HCG/BIO
Memberships
European Society of Radiotherapy & Oncology (ESTRO)
Life Member of the Association of Radiation Oncologist of India (AROI)
American Society for Therapeutic Oncology (ASTRO)
Life Member of AROI – Tamil Nadu and Pondicherry Chapter
European Society of Medical Oncology (ESMO)
Member of the Karnataka Medical Council
REQUEST APPOINTMENT
Dr. Mathangi, Best Radiation Oncologist, India
Book Immediate Appointment at Mobile
+91-9371770341


Number For Fast Track Query Reply Email ID- dr.mathangi@indiacancersurgerysite.com
Awards and Recognitions
Award for the Best Internal Auditor of NABH Accreditation Program.
Awarded Gold Medal During DMRT Conducted By AROI Tamil Nadu and Pondicherry
Gold medalist, AROI, TN and Pondy Chapter, 2006
Paper Presentations
Presented a paper on "Stereotactic Radio Surgery in Arteriovenous Malformations" in National AROI conference at Chennai.
Presented the paper "Peripheral PNET of maxilla- a rare case presentation" in the State conference of AROI-TN and Pondicherry chapter