REQUEST APPOINTMENT
Dr. Jayanti, Best Breast Cancer Surgeon, India
Book Immediate Appointment at Mobile
+91-9371770341


For Fast Track Query Reply Email Id dr.jayantii@indiacancersurgerysite.com
-
Brief Profile
Dr. Jayanti is the Breast Cancer Surgeon at Breast Oncology Department Global Hospitals, Bangalore. She is one of the very few lady surgeons practicing breast oncology with over 15 years of experience in this field. Dr Jayanti S Thumsi Breast Cancer Specialist in Bangalore has conducted more than 2000 surgeries. Being a part of the comprehensive breast oncology department for patients with breast diseases in India, Dr. Jayanti is also a part of research programme both in basic science and clinical breast oncology. Breast Cancer Specialist in Bangalore is a investigator in various clinical trails. Send us your query to book Appointment with Onco Surgeon via Dr. Jayanti Thumsi Email Address.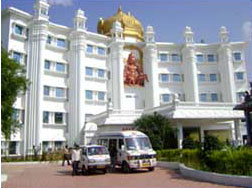 The Breast Cancer Specialist in India has conducted more than 175 breast screening camps and awareness programmes for early detection of breast cancer in Bangalore, Karnataka, Uganda, Kenya, Kurdistan, Srilanka. She has educated more than 20,000 women through these camps. The Breast Cancer Surgeon at Global Hospitals Bangalore has been a speaker in many national and international conferences and has authored many articles in the news paper and magazines. Dr. Jayanti has also organised several oncology conferences and done several T.v shows and radio programmes. To get a fast track reply, consult Dr. Jayanthi S Thumsi Surgical Oncologist in Bangalore via Contact Number given on the website.
Education
MBBS from Grant Medical College and Sir JJ Hospital, Mumbai, 1990
MS General Surgery ( Breast Oncology) from Grant Medical College and Sir JJ Hospital, Mumbai, 1993
Breast Oncology Trianing from Tata Memorial Hospital (Breast Unit), Mumbai
Breast Reconstruction Surgery Training
Specializations
Breast Surgeon
Internal Medicine
Surgical Oncology
Association of Dr. Jayanti with Global Hospitals, Bangalore
Cancer is one of the biggest threats in today's world. Cancer is a disease in which abnormal cells divide rapidly, spread and destroy different parts of the body. Often it affects people with a weak immune system. The most common cancer in women is the breast cancer. Apart from many risk factors, family history is an important one. Our team of well established Breast cancer experts at the Global Hospitals aim at provide the preventive and curative services to our women with respect to breast cancer, in the best way possible. Our dedication, hard work and many years of experience brings out great results. We provide well-equipped labs and well trained oncologists who perform the tests meticulously and give precise results. We also provide screening services so that those who are at risk may get themselves checked. Every woman diagnosed with breast cancer deserves to get rid of the disease hence, we at Global Hospitals provide that treatment and care for a better living. Read Dr. Jayanti S Thumsi Review to know more about the Surgical Oncologist at Global Hospitals Bangalore.
Video
Dr. Jayanti S Thumsi, Breast Cancer Surgeon, Breast Oncology Department at Global Hospitals, Bangalore talks about Breast Cancer- incidence, screening, breast self-examination, important of early detection. She is one of the few female surgeons specializing in Breast Oncology surgery and women related surgical problems. With over 18 years of experience in complete breast care, she has impressive training from the most prestigious institutions in India.
Doctor Experience
Senior Consultant, Breast Oncology Department at Global Hospitals, Bangalore, Present
Senior Registrar, Department of General Surgery at JJ Group of Hospitals, Mumbai
Senior Registrar, Department of General Surgery at St John's Hospital
Clinical Attachment in Department of Breast Oncology at TATA Memorial Hospital, Mumbai
Memberships
Indian Cancer Society
Association of Surgeons of India (ASI)
Association of Breast Surgeons of India
REQUEST APPOINTMENT
Dr. Jayanti, Best Breast Cancer Surgeon, India
Book Immediate Appointment at Mobile
+91-9371770341


For Fast Track Query Reply Email Id dr.jayantii@indiacancersurgerysite.com
-
Awards and Recognitions
A Handy Diagnostic Tool for Preventive Therapy based on Prior Estimation of Metastasis, 2014
Worse event-free and relapse-free survival in financially disadvantaged patients with breast cancer in South India, EBCC, 2014
financially disadvantaged patients with breast cancer in South India - International Breast oncology conference Kochi, 2014
Outcomes in financially disadvantaged patients with breast cancer in south India 2014 ASCO Annual Meeting, 2014
Poor prognostic factors and differences in chemotherapy lead to poorer outcomes in Distinction Grade in Maharashtra State Secondary School Certificate Exam
Scored Highest Marks among Girls Who Secured MBBS Seat in Mumbai
Distinction Grade in Maharashtra State Higher Secondary School Certificate Exam
Ramabai Bapat Scholarship for scoring highest marks among girls in MBBS