Dr Harit Chaturvedi
Surgical Oncologist Max Healthcare Delhi
Consultation Form
Dr. Harit Chaturvedi
E-mail & Appointment
Dr. Harit Chaturvedi, Best Surgical Oncologist, India
Book Immediate Appointment at Mobile

+91 - 9371770341


For Fast Track Query Reply Email ID

Dr. Harit Chaturvedi is the Chairman Cancer Care Director & Chief Consultant Surgical Oncology at Max Healthcare, Delhi, India. He started his oncology career at the esteemed and renowned Cancer Institute, Adyar (Chennai). The Best surgical oncologist at Max Healthcare Delhi has performed surgeries at live surgical workshops. Being a crusader against Tobacco for the last 15 years through various cancer foundations, Dr. Chaturvedi has been championing the cause for cancer awareness. Cancer Surgeon at Max Healthcare Delhi is widely respected for his clinical and surgical skills. Best cancer surgeon in India leads the Oncology team at Max Healthcare that has 80 oncologists spread across seven major super speciality centres, and other standalone centres across Delhi NCR and North India. Get in touch with us to book appointment with Dr Harit Chaturvedi Contact Details given on the website.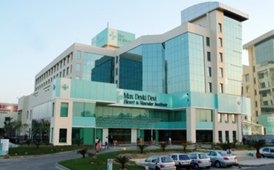 Oncology Doctor at Max Healthcare in Delhi focuses to provide the quality care through various initiatives such as the virtual Tumour boards and drive the sub specialty that is build up across the Max centres. Best surgical oncologist in Delhi, India drives the ambitious oncology vision at Max Healthcare with a strong focus on people, processes and systems and has key role in clinical quality processes, clinician recruitment and long term vision and strategy for the group. He is a voracious reader and in his leisure time likes spending time with family. Read Dr Harit Chaturvedi Review to know more about the surgical oncologist in Delhi, India.
Education
M.B.B.S from G.S.V.M Medical College, Kanpur, India
M.S from G.S.V.M Medical College, Kanpur, India
M.Ch. (Surgical Oncology) from Dr. M.G.R Medical University, Chennai, India
Specializations
Surgical Oncology
Abdominal Cancer Surgeries
Breast Cancer Surgeries
Association of Dr. Harit Chaturvedi with Max Healthcare, Delhi
Institute of Cancer Care at Max Healthcare, Delhi offers a holistic integrated care by consolidating views of experts in Surgical Oncology, Medical Oncology and Radiation Oncology. Our experts specialize in treating cancers affecting Lung, Breast, Head and Neck, Gastrointestinal, and others. We are the first facility in northern India to acquire Novalis Tx for IMRT/IGRT, HIPEC and SRS/SRT and Radiosurgery. Additionally, we are equipped with an advanced Da Vinci XI Robotic System to treat the complex conditions such as cancers of prostate, colon/rectum, cervix, as well as heart tumors. This procedure is the next frontier for minimally invasive surgery. Our state-of-art day care center is a standalone specialized facility away from the hospital that ensures comfort to patients. Get in touch with us to consult Dr Harit Chaturvedi contact number given on the website.
Video
Padma Shri Dr. KK Agarwal, a renowned Cardiologist and Honorary Secretary General of the Indian Medical Association (IMA) hosted the session "Ask The Specialist" where the cancer related questions were answered by Dr. Harit Chaturvedi, Chief- Consultant & Director, Surgical Oncology, Max Healthcare, Delhi.
Doctor Experience
Head of Department, Max Super Specialty Hospital, Saket, Delhi- Present
Rajiv Gandhi Cancer Institute, 2009
Indraprastha Apollo Hospital, New Delhi, 2004
Batra Hospital, New Delhi, 1999
Memberships
President, Elect, Indian Association of Surgical Oncologists
Founder President, Core Cancer Foundation
Member, Association of Breast Surgeons of India (ABSI)
President, Oncology Forum
Member, Association of Surgeons of India
Immediate Past President, India Society of Oncology
Member, Delhi Medical Association
E-mail & Appointment
Dr. Harit Chaturvedi, Best Surgical Oncologist, India
Book Immediate Appointment at Mobile

+91 - 9371770341


For Fast Track Query Reply Email ID

Video
Dr. Harit Chaturvedi, Chairman, Max Institute of Oncology, New Delhi, the Organizing Secretary, 12th ACOS Conference) and President IASO (Indian Association of Surgical Oncology) talks about the event.
Awards and Recognitions
Young Scientist Award, 1993
Publications
He has many publications and scientific presentations in over 50 national and international conferences.